Azurablu Hygiene Division
Providing specialist disinfection and decontamination solutions
Throughout these Challenging and unprecedented times Azurablu promises to provide an exception level of continued support, dedication and commitment to our customers and employees working together, to provide effective solutions, in unimaginable situations. Breaking the Chain of Infection, Protecting Everyone, Creating a Clean and Safe Environment against Covid-19

Paula McFarlane - Director
Azurablu Hygiene division have developed successful methods of rapidly responding and eliminating the presence of viruses using our unrivalled revolutionary state of the art technology antimicrobial electrostatic systems.

Hygiene Services
Our 24/7 fast response expert disinfection package, will ensure that we can deal with the situation in hand. Our trained operatives have the necessary experience for any incidents of viruses ,sickness and contamination outbreaks which includes Coronavirus/Covid 19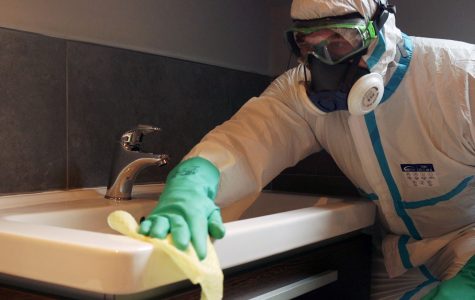 Protection your business for up to 30 Days
Responding to planned or unplanned incidents, assessing and utilisation of specific agent's dependant on the circumstances. Our expert Covid-19 teams can be undertaken at agreed timings to ensure minimal disruption & discretely, adopting a focused approached to cleaning and a total commitment to you, your staff and customers wellbeing.

Service we can supply but are not limited to:

• One off Deep Cleaning
• Scheduled Maintenance
• Deep Cleaning
• Sanitisation and Infection
• Control Cleaning
• Specialised Disinfection and Decontamination Service
Contact Us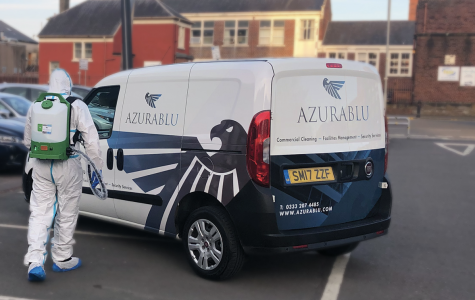 Vehicle and Fleet Disinfection Service
Our qualified experienced Covid-19 Mobile Technicians deliver truly effective methods in disinfection and decontamination for your vehicles internally and externally

• Providing hygienic solutions 24/7, 365 days a year, even in emergency situations.
• Reassurance of unrivalled exceptional levels of antimicrobial protection inside and Out.
• Minimal Operational Downtime – Vehicles available within 30 minutes of treatment
• Treated surfaces protected for up to 30 days by way of protective coating.
• Non-Toxic, Non-Corrosive, No Chlorine

Industry Types Supported but are not limited to:

• Transport/Logistic Vehicles
• Commercial Vehicles
• Emergency Vehicles
• Local Authority Vehicles
• Utility Services Vehicles
Contact Us
ATP Testing
Azurablu Hygiene, supporting organisations exceed the industry standard in safeguarding their properties and assets, but more importantly, their employees and clients. We can offer the highest quality service including ATP Testing to ensure your properties are fully disinfected and free from pathogens, prepared and ready for re-opening of your business safely.
Contact Us